Rolls Royce Silver Shadow MK-1
The 1970 Rolls Royce silver shadow Mk-1 is a traditionally well known bridal car. This car offers the ultimate in supreme craftsmanship and unrivalled elegance. The style and distinction that only the Rolls Royce can offer will ensure that your day has that unmistakable touch of class. This car has a superb c.d. music system, telephone system and many other extras.
Silk flowers decorate the inside of the vehicle while white silk ribbons are decorating the exterior to compliment the colour of the car. the interior of the car is of the finest quality and undeniably beyond comparison. the beautiful cream leather seating compliments the highly polished walnut trim. The floors are covered with lambswool rugs with foot stools to accompany them. This provides the most exquisite surroundings for any bride on her most special journey. Carols Wedding Cars can guarantee a luxurious and memorable experience in a bridal car of outstanding class. The Rolls Royce is easily one of the most popular vehicles in use today for the transportation of a bride on the most exiting day of her life.
This vehicle comes with a choice of gold or white silk ribbons to compliment the colour of the car.
An outstanding car. Most peoples vision of a bridal carriage traditional yet elegance with style.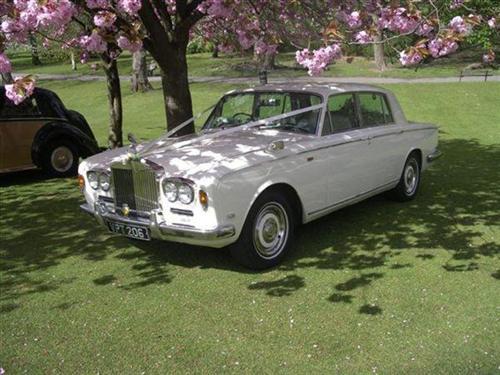 Enquire About This Car Today
A small deposit can secure this stunning car. Get in touch with us today today to find out more!