1936 Vintage 16/6 Hertford
This beautiful car was created in 1936 before the start of world war II. It was hand crafted by men with a skill that has long passed. During world war II the car was put into storage and did not venture back onto the road until it was discovered in the 1970's, when the car was totally renovated to its former glory. This car is a true vintage vehicle and has won many shows because of its pristine condition.
CAROLS WEDDING CARS are proud to be able to present this true vintage unique bridal carriage.The passenger space to the rear of the vehicle is vast, ideal for those fuller bridal gowns. The doors open very wide for easier access and makes photography a pleasure, instead of those snaps taken through a small window space. The floors are covered in lambswool rugs.
The interior of the car is decorated with hand made silk flowers while silk ribbons decorate the outside. This car is burgundy and cream to the outside with cream leather seating piped in burgundy. Viewing of this and all our vehicles are highly recommended.
TAKE A LOOK AROUND THIS STUNNING WEDDING CAR IN 360VR!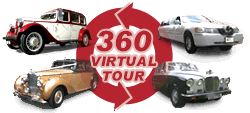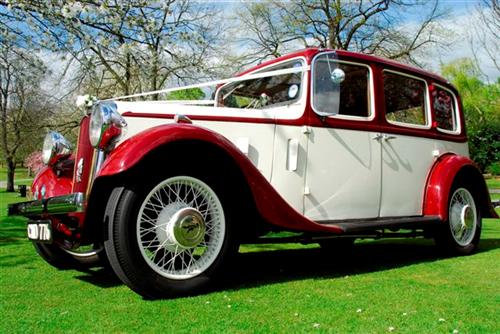 Enquire About This Car Today
A small deposit can secure this stunning car. Get in touch with us today today to find out more!